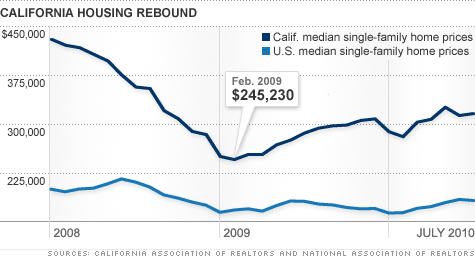 The national housing market is shrouded in uncertainty. But in California, there are glimmers of stability.
Home prices are rising in virtually every corner of the state. They've climbed for nine consecutive months, and in July posted a 10.4% gain year-over-year. That puts the state's median price at $315,000 — nearly twice the national median of $183,000.
And the news is even better in coastal cities.
San Francisco posted the biggest gain of any U.S. metro over the past year, rising 14.3%. The median price there is now more than $607,000. Meanwhile, San Diego has climbed 11.2% (median price: $389,000) and Los Angeles jumped 9.2% (median price: $345,000).
Meanwhile, Florida, Arizona and Nevada — California's erstwhile bubble-state partners — continue to struggle. So where is the Golden State's strength coming from?
"I think it comes from the fact that prices went down so far and so quick," said Lesley Appleton-Young, California Association of Realtors' chief economist. "That left a lot of people here saying, 'Wow, affordable California housing.'"
However, a quick home price rebound was delayed by…
To read the rest of this article, please go to  CNNMoney.com.
I'm a real estate broker associate in Newport Beach & Corona del Mar, CA, with Villa Real Estate.
Contact me at (714) 914 9060 or rwest@villarealestate.com for all your real estate wants and needs.
Latest posts by Renee West (see all)