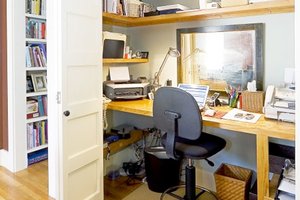 If you don't have an extra room in your house to dedicate to a home office, consider alternative spaces–such as a closet–that can be converted.
If you're looking for a remodeling project that will make your house more salable in the future, a home office may well be it. When the National Association of Home Builders asked builders, architects, manufacturers, and marketing experts to predict the features that will be important to buyers of upscale properties in 2015, 94% said a home office would be "critical" or "very critical."
That said, while an office may make your home more attractive to potential buyers, it won't add significantly to value. According to Remodeling Magazine's Cost vs. Value Report, converting a 12-by-12-foot bedroom into an office costs a national average of around $28,000 and recoups slightly less than half the investment. But if you're among the more than 20% of Americans who do some or all of their job at home, a comfortable, functional work space is a must-have.
Where to put a home office
A spare bedroom is the most common place for an office, but it's not the only adaptable space in the house. The formal living rooms and dining rooms in many older homes often don't get a lot of use and make great offices, says Lisa Kanarek, founder of WorkingNaked.net, a service for people "stripped of the support" of the corporate office. "They're spacious, have good light, and are easy to close off," Kanarek says.
Architect Sarah Susanka, author of "Not So Big Remodeling," converted her formal living room into an office for her therapist husband. It's close to the front door and has easy access to the powder room, both important considerations if your business brings visitors into the home. Attics, basements, dens, sunrooms, garages, even laundry rooms are similarly convertible.
One important question is whether you'll be taking the home office deduction on your taxes. If so, your work area can't be used for any other purpose; the IRS bases the deduction on square footage used "exclusively and regularly" for business activities. Consult your accountant about whether the deduction makes sense for you.
What to spend on a home office
The home office in the Cost vs. Value report cost just over $28,000 to set up, a figure that includes custom cabinetry, 20 linear feet of laminate desktop, wall-mounted storage, upgraded electrical and data wiring, and new woodwork, paint, and flooring.
Of course, you don't have to spend that much. By using off-the-shelf products and materials and doing some of the work, such as painting, yourself, you can transform an existing room into a home office for a lot less money. At minimum, though, budget $3,000 to $5,000 for paint, flooring, lighting, office furniture, and equipment.
Consider the needs of your profession
When evaluating space, start by making a list of the needs of your profession. An architect, for example, might want natural light and ample counter space for rolling out blueprints, while a vendor needs easily accessed storage for shipping supplies. In general, every office requires a work surface, storage, place for a computer and other electronics, and adequate lighting. Consider also your needs for the following:
Power, phone, and data wiring. A bedroom may already have enough outlets and at least one phone or cable jack, but if you're taking over a formal dining room, you'll likely need new wiring. It's a relatively easy job for an electrician to add outlets (typically $100 to $250 per receptacle, depending on whether you also need to run new circuits). Internet connections can often be handled wirelessly, but for maximum reliability and security, ask your phone or cable company about installing additional lines.
Privacy. Susanka says the biggest mistake her clients make is putting their office in the middle of their home's hustle and bustle. "The environment for work needs to be off the main living area," she says. That doesn't mean you need to hide out in the basement, but you're better off out of the major traffic zones, especially with children at home.
Security. If your work involves financial or other confidential records, think about how you'll keep them secure. "I have client credit card numbers in my office," says Paige Rien, designer for the HGTV show "Hidden Potential." "I close the door and lock it." (For more on keeping important documents safe, take our home office security checkup.)
When dedicated space isn't an option
Not everyone has a spare room to devote to an office. In that case, you need to find creative ways to carve out space. Offices can often be tucked into little-used locations, such as under stairs, in dormers, and on second-floor landings. One of Kanarek's clients set up in a walk-in closet. "She lined the walls with counters and put in mirrors to make the space feel bigger," Kanarek says.
Closets offer a good compromise because you can close the doors on your job at the end of the day. Another option is a computer armoire; starting at around $500, you can get one with shelves for a computer and peripherals, a slide-out keyboard tray, organizers for files, even built-in cork boards. If that's out of your budget, set off a corner of the living room or family room with a room divider, bookcases, or a folding screen.
Whatever you do, Kanarek advises, try working in the space for a few weeks before investing any money in remodeling. "I have clients who spend thousands of dollars on built-ins," she says, "and then sit on their bed or at the kitchen table to work because they like the light there better."
Pat Curry is a contributing editor to HousingZone.com, a former senior editor at BUILDER, the official magazine of the National Association of Home Builders, and a frequent contributor to real estate and home-building publications.
Read more: http://www.houselogic.com/articles/evaluate-your-house-home-office/#ixzz13NspX2Re
I'm a real estate broker associate in Newport Beach & Corona del Mar, CA, with Villa Real Estate.
Contact me at (714) 914 9060 or rwest@villarealestate.com for all your real estate wants and needs.
Latest posts by Renee West (see all)