The ultra-rich have plenty of home choices right now. There is a glut of mega-mansions on the market — at steep discounts. Here are 5 of the most luxurious:
Alpine, N.J.
Price:
$68 million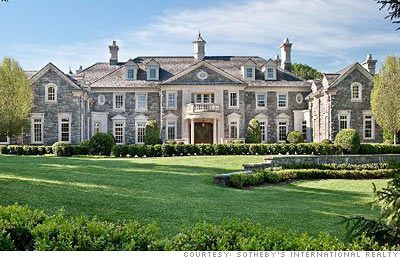 Bedrooms: 12
Baths: 15 full, 4 halfs
Square feet: 30,000
Description: It's called Stone Mansion, and that's an apt description. It features granite walls, limestone window frames and a slate roof. Interior touches include rare wood floors and doors, intricate metalwork and vaulted and coffered ceilings.
There's an indoor basketball court with 23-foot ceilings, a wine cellar that holds 3,500 bottles, grand reception rooms, tennis court, pool. You name it, it's got it.
It's located in Alpine, N.J., an extremely upscale, quiet community just 18 miles or so from Times Square and on the gated grounds of the former Frick Estate. The current owner, Richard Kurtz, said it feels like being far out in the country with deer, fox and wild turkeys being regular visitors.
Manhattan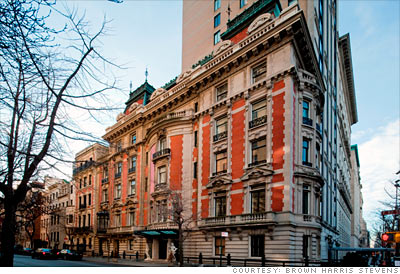 Price: $50 million
Bedrooms: 12
Baths: 14
Square feet: 20,000
Description: This Beaux Arts wedding cake of a building is a return to the Gilded Age, when millionaire's mansions lined upper Fifth Avenue. It stayed in the family of tobacco magnate James Duke for more than 100 years before being sold in 2005 for $40 million.
Back on the market since January, the home has exquisite details, including ornate moldings and woodwork, inlaid floors, paneled walls and a wrought-iron staircase with brass decorations. There are 11 fireplaces, three elevators and a roof garden.
Tall windows give it splendid views of Central Park and the Metropolitan Museum of Art.
Windermere, Fla.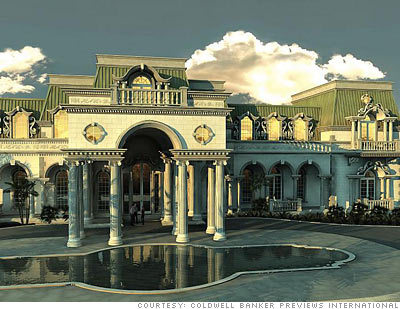 Price: $100 million finished or $75 million as is
Bedrooms: 13
Baths: 23
Square feet: 90,000
Description: It's called Versailles because it was patterned after the royal chateau near Paris. This palace features a 6,000-square-foot master suite, a 60-foot by 120-foot grand hall with a 30-foot ceiling, a two-story library, spa, bowling alley and indoor roller skating. All guest bathrooms come equipped with Jacuzzis.
The exterior is marked by stone columns and balustrades, balconies, mansard roofs, a huge porte cochere entryway and elaborate, carved lintels. There's a 20-car garage.
The grounds include a baseball field, formal gardens, tennis courts, 1,200 feet of lake shore and a boathouse. There are three swimming pools, a rock grotto with three hot tubs and an 80-foot waterfall.
Aspen, Colo.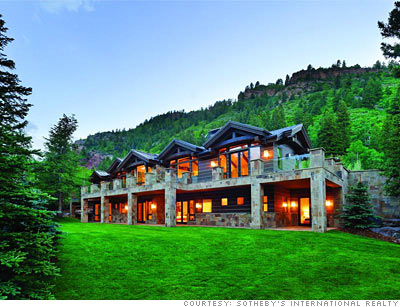 Price: $17.5 million
Bedrooms: 5
Baths: 8
Square feet: 11,288
Description: This Rocky Mountain lodge-inspired home in the ultra-chic town of Aspen has gorgeous views of Aspen Highlands and Pyramid Peak. Its interior features wide-board wood floors, soaring beamed ceilings, upholstered walls and three fireplaces.
The winters in Aspen offer some of the greatest skiing in the world, but this house also offers indoor recreation: basketball court, pool, media room and a spa.
It's located in a canyon-side southwest of the main part of town. There are 4.5 acres of lawn and gardens with flagstone deck and patio.
Thousand Oaks, Calif.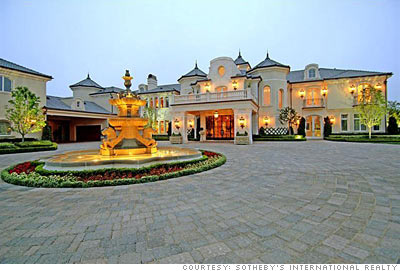 Price: $27.5 million
Bedrooms: 7
Baths: 11
Square feet: 16,000
Description: California sunshine drenches the wide lawns and lush formal gardens of this 23-acre estate north of Malibu. There are limestone walks, planters and fountains and an infinity pool. The property has views of the Pacific and of the Santa Monica Mountains.
Inside are many elegant touches: glazed-wood crown moldings, quartz crystal chandeliers, stone flooring and rich woods. There are double story rooms, fancy French fireplaces, a 3,800-square-foot master suite and a plush media room.
I'm a real estate broker associate in Newport Beach & Corona del Mar, CA, with Villa Real Estate.
Contact me at (714) 914 9060 or rwest@villarealestate.com for all your real estate wants and needs.
Latest posts by Renee West (see all)